How To Choose Your Wedding Shoes
We agree you have not planned to wear flip-flops for "the happiest day of your life", No? So much the better! Whether you have already chosen your wedding suit or not, there is always time to select a beautiful pair of waxed shoes, in quality leather, with a magnificent shape. You will tell me that it is easy to say. But there is still a detail to refine … which model to buy and how to choose it. Let's go back to the beginning, to make you the best shoe man of your marriage.
WHAT BUDGET SHOULD BE SPENT ON A PAIR OF WEDDING SHOES?
This is a relatively personal matter as it relates to your finances. If you are able to put € 1000 in a pair, then all the better. But that does not make you a man necessarily better dressed than your neighbor who will only have a 300 € budget. Let's say that the question is rather that of the crush, the style, and the maximum budget that you can put.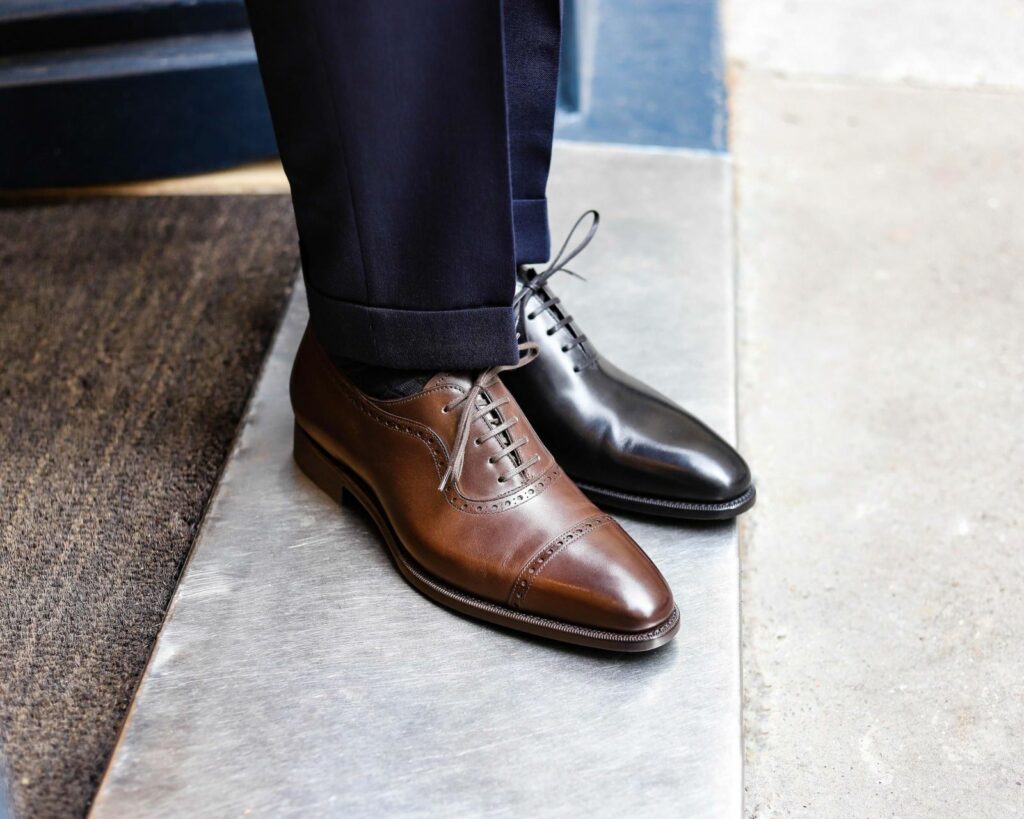 In any case, a pair of quality shoes, with solid and elegant leather, an assembly carried out in the rules of the art and noble materials, will cost you a minimum of 200 €, and I think that a budget of 250 to 600 € is perfect for having a nice pair of shoes. However, if you do not have this budget some brands offer very attractive prices. You will find them in this article, category "cheap shoes".
WHAT STYLE OF SHOES TO CHOOSE
This is where the question becomes interesting. To know which pair of shoes to wear at your wedding, you must first ask yourself what is your attachment to the rules, to the "etiquette" and what is the degree of formality of your marriage. Is it very formal, classic or relaxed? I went to see Victor at Malfroid to try several pairs in several styles, compare them, juxtapose them, and help you get an idea. Let's see what I recommend for each case.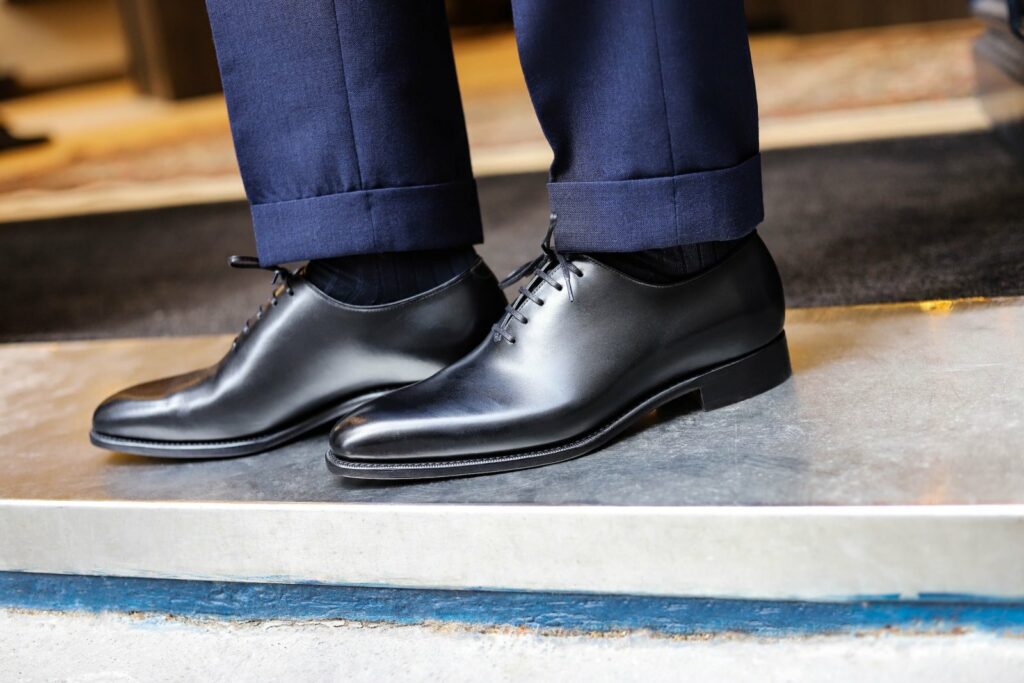 THE SHOES OF A FORMAL WEDDING
The most standard shoe style for a formal wedding is the black Richelieu One Cut. It is THE formal shoe par excellence. It has no reported tip or other devices. It is entirely in smooth leather, and its beauty lies in its shape and the quality of the leather that composes it. This is the model to wear during a very formal wedding in a jacket or a 3-piece navy blue or anthracite gray suit. There is no other alternative, no other shoe is as elegant and formal as this pair. You can find it in Goodyear or Blake sewn. Note that the first type of mounting is thicker and more rigid than the second which is thinner and more flexible. If you are afraid of never wearing this pair again, fear not. It is a pair that you can easily wear with a suit to go to the office, but also a little more rock-n-roll with jeans, a blazer and a shirt without a tie. In the "formal shoe" category, only the color black is allowed. Sorry for the others. But we are very lucky because it is certainly the most comfortable pair of leather shoes to wear!
THE SHOES OF A CLASSIC WEDDING
I mean by "classic" a marriage where it is not necessary to be too formal, but where there is also no question of showing up in Dockside Sebago. Because yes, don't forget that you are the ideal son-in-law! It will, therefore, be appropriate to wear a classic pair, but with a touch of fantasy. Opt for a bi-material model in smooth leather and suede leather, or a model with a slightly perforated but not floral toe cap, and always in smooth leather. This kind of model can very well brighten up a navy blue or gray suit, to give a little more "pep" to your groom look. As far as colors are concerned, you can dodge traditional black to explore the magical world of brown or blue. You can also try the patina experience to give depth to the color of your leather. Be careful not to fall into the clownish fantasy, and avoid trying to do too much with a really pronounced apple green patina or colored laces for example. I have seen many people wear double buckle shoes at their wedding but I do not find this model very "classic" and suitable for a "classic" ceremony. I find the simple loop much more suitable in this case.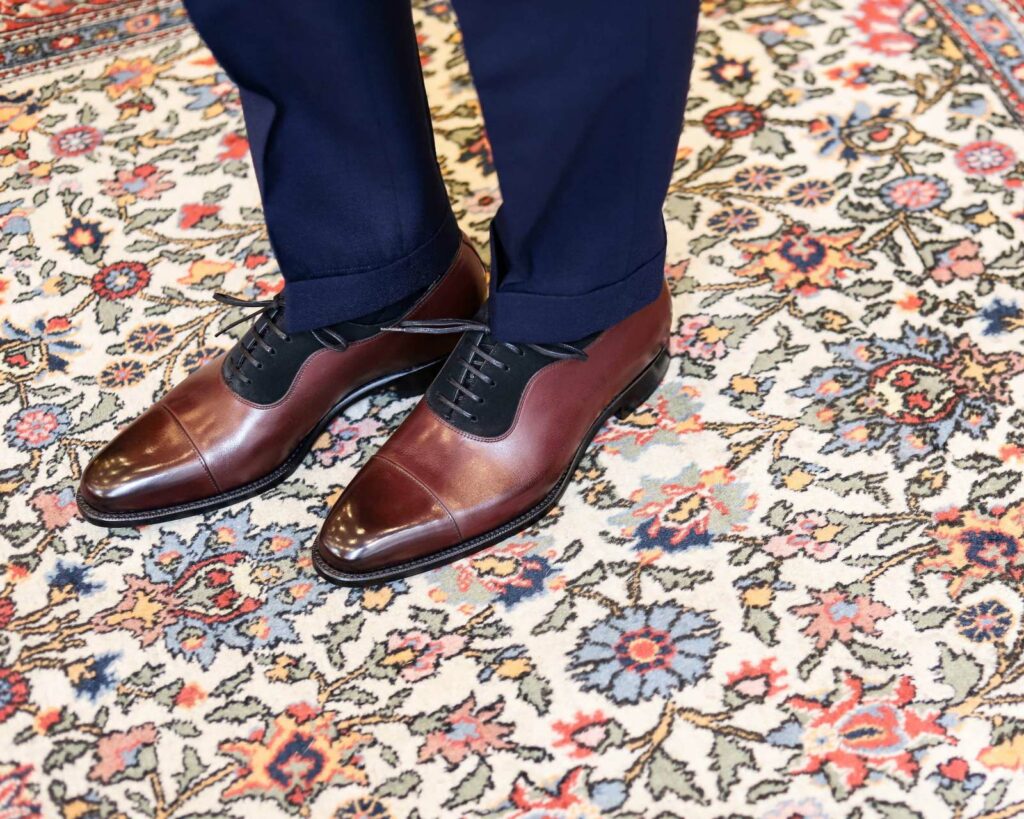 THE SHOES OF AN ORIGINAL WEDDING
Welcome to the kingdom of freedom! Here you have the choice to do what you want. However, there are "original" and "original"… If you are looking for relatively contained originality, orient yourself towards a model in smooth leather but with pointed toe decorated in brogue or even why not in full brogue derby. But beware from this moment you will not be classic at all! If you want to go even further, you can play with colors, patinas, and variations of leathers (smooth/suede/grained/oily). You can also choose a single loop pair, which I find much more elegant than a double loop. If you opt for ankle boots, however, avoid getting married in Chelsea boots, jodhpur or desert boots, which are the latest models of leather shoes that I recommend you wear for this occasion. Choose a pair of lace-up boots, which have the advantage of looking like a classic pair of shoes if your pants cover your ankle.